Discover more from Libbie's Lab
A place for creative experiments.
WIP it into shape!
Aren't we all a work in progress?
Hello! 
Welcome to the first installment of the Libbie's Lab newsletter!! I definitely intended for this to be released on Monday but alas, life has a knack for getting in the way! 
Because this is the inaugural email, I think it would be best to catch y'all up to where I am at. Right now, I am in a knitting rut. I have little to no interest in any of my projects at the moment despite thinking they're all really cute! This tends to happen when life gets chaotic. I can't quite relax into the soothing clicking of knitting needles when there is a wedding to plan, a business to run, classes to plan, freelance work, and the whole ordeal of making sure my basic needs are met. No complaining because #blessed but you know how it is! 
So to cure my brain fry, I am going to show you what's in progress for me and maybe it will make them seem exciting again!! 
Firstly, I have been working on this Stripe Overload Polo for several months now. It went into my Time Out pile after I mis-measured the length and basically made a sweater-bra. It was such a rookie mistake that it took a while to bring myself to rip back the ribbing and lengthen it. 
Recently I was finally feeling brave and fixed it but then the ribbing did that annoying thing where it puckers and becomes wider than the sweater…??? I have no clue why this happens but I simply can't live with it. So I ripped the ribbing out yet again and plan to reknit it. I will obviously need to finish the sleeves as well but what a frickin' ride!
My second project is this blue, recycled cotton sweater. It's definitely the only one I genuinely feel like working on. That's likely because I casted it on mere days ago with the arrogant assumption that I can finish it before I go on trip next week(lololol).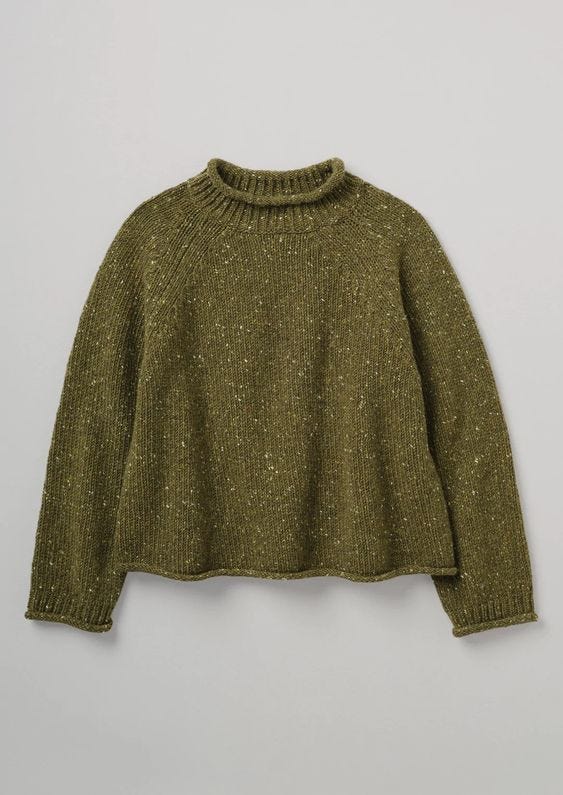 I am winging this one which of course makes it more appealing to my brain. I am basing it off of the green Toast sweater(above) that I looooove but does not fit in my budget. I am going to shape the sleeves like white sweater(above) though because it will be a fun detail on an otherwise very simple sweater. 
Thirdly, I am crocheting this cotton tote out of a bunch of random balls of cotton yarn that I hate knitting with but love the color.
Cotton is nice and durable for something like this but I am finding it so tedious to work with right now. The only thing that is keeping my hands from cramping is this silicone chunky boy that is holding my crochet hook. 
I am planning to pick up these crochet stitches and just knit them… it might be ugly or cool. It could truly go either way. Regardless, this project is definitely one where I hate the process but want the result so bad that I haven't ripped it out yet. 
Of course I have a pair of socks going as well. These are an on-the-go project though so they will take a while and I am okay with that!! The pattern is the free Basic Ribbed Socks pattern by Kate Atherley.
Lastly, I casted on this fluffy sweater a couple months ago and never really kept at it. I love the yarn and the colors but for some reason, I haven't made my way back to it. I bought the yarn on a visit home to Minnesota last year and was so excited about it. It's being knitted on 9mm needles which should make it a quick win but it's just like that sometimes!! 
Finally, I want to end each newsletter with some things I want to make or find inspiring right now so here they are. 

5 Things To Make Or Be Inspired By <3 
The Lonely Leftovers Vest(!!!) is freaky cute. I saved this version on IG and have been wanting to make it ever since!! 

These jeans that @natalie_ebaugh made on IG. I have plans to convert an old pair of skinny jeans to straight legged jeans.

My friend Glenn's newsletter called Junior Year is very fun and she always gives the best style advice!!

I loved the recent series on the Clothes Horse Podcast about the ethics of secondhand reselling. It's long but worth a listen!

I might be late to the party but I just finished season 2 of Next In Fashion on Netflix. This season was good but I liked the first season way better!! Minju forever <3
Thanks for reading!! Maybe some of these will be FO's by next month's newsletter! <3
Ttyl,
Libbie